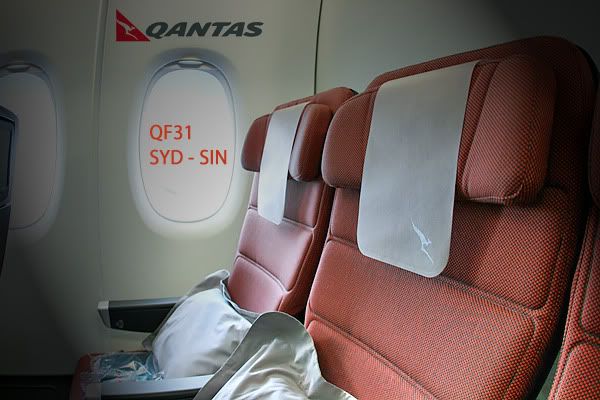 Flying on the "world's most experienced airline" can raise a lot of expectations. However, as far as Qantas is concerned, this statement may be overkill when and if one submits to the world of today's media. From serious safety incidents that spiked several others that I like to call media-induced, all the way to the airline's very own Australians voting it to be the worst of the bunch. As a matter of fact, during the post-nineties era, I have rarely heard anything good about this airline. Long were the days when the world believed that Qantas is the safest airline in the world.

But they are a Oneworld member and to me, that says something. Furthermore, they are positioned out in the middle of no where, and for an airline this big that has succeeded in the non-reliance of networking passengers from one end to another via a midpoint is by far the clearest indicator of how powerful this airline is.

Today the A380 made its second home at Qantas, offering an attractive product that has caused a bit of an unattractive stir. Naturally one can only compare with the offerings of Emirates and Singapore Airlines, two of Qantas's worst enemies, and the famed vomit-green seats just don't seem to do it for many. I beg to differ on the other hand, and would like to give this airline a try.

Welcome to my 15th Trip Report
This TR will cover my flight on the Qantas A380 from Sydney to Singapore in Economy Class.
This is the second portion of my trip to Sydney and Singapore. After spending several days in Sydney, I had planned to visit Singapore on my way back to Abu Dhabi. I have been to Singapore when I was five years old, so that doesn't really count now. After constantly hearing about how perfect this place is, perfect to the point that it's utterly weird to many people, I was very curious to see what it was all about.


In selecting the flight, I had several conventional options and several interesting unconventional ones to choose from. There was the Singapore Airlines A380 which was quite intriguing, but at the same time gave me no loyalty credit. On the other hand, there was Japan Airlines and Qantas, both of which I am entitled to Oneworld mileage accrual. JAL was possible through purchasing two separate one-way tickets, which was a hassle at that point, so Qantas along with its A380 was a no brainer this time.

Tuesday April 21st 2009
After a fantastic stay in Sydney, it was time to start my journey back home. The thought of that reminds me of a holiday's end. However, I still had the stopover in Singapore to look forward to, so it wasn't so bad.

As usual, I wanted to take it slow and spend a ridiculous amount of time at the airport before my flight, so I left the hotel at 11am. Grabbing a taxi after checking out, I arrived at Kingsford Smith International Airport at 11:35am. Having about five hours before my flight departed, I was in no rush.

I decided to try and check-in so as to rid myself from my suitcase. At 11:45am I stood in line for check-in and when it was my turn, I was advised that check-in for QF31 does not open until four hours before departure. So I had almost an hour to kill before returning and thought I would grab a bite to eat at the food court.

Qantas Economy Class Check-in Area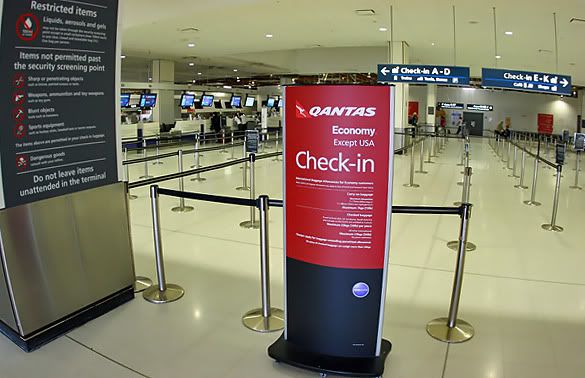 Salad: Did Not Want To Stuff Myself Before The Flight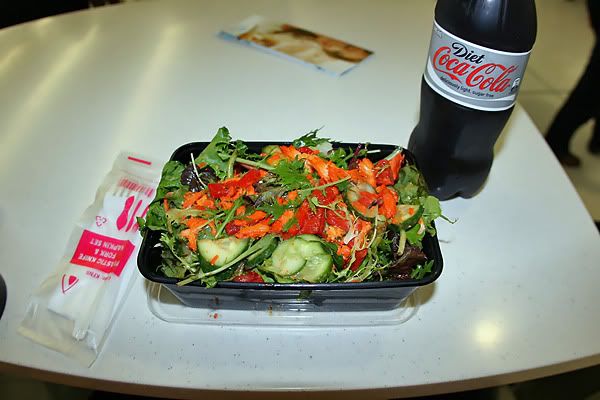 At 12:30pm I returned back to the check-in desks, and stood in line again. Soon enough it was my turn and I approached the Qantas agent who warmly greeted me as I handed her my ticket, passport, and Marco Polo Card.

Standing In Line For Check-In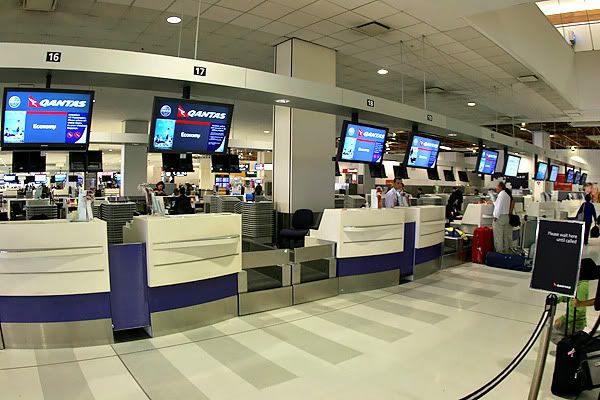 "Is the flight full this evening?"
"Yes the flight is very full… oh you are flying on the A380 tonight"
"Yes I know, that is the main reason for traveling today"
"Fantastic, is this your first time?"
"No, I flew on the Emirates A380 before"
"Oh that must have been a great experience! .. Well I hope you will enjoy your flight with us today"
Spot on Qantas! A very nice start to my experience with them.
By 12:40pm my suitcase was on its way to Singapore, and my passport, ticket, and boarding pass were handed to me. It was now time for some airport sightseeing.

My Boarding Pass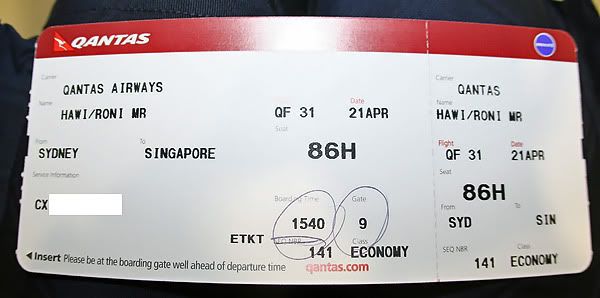 FIDS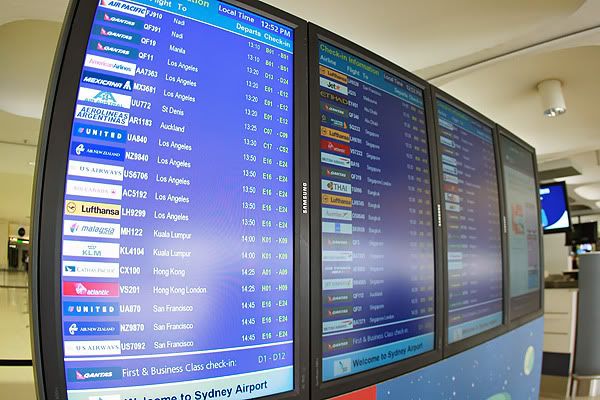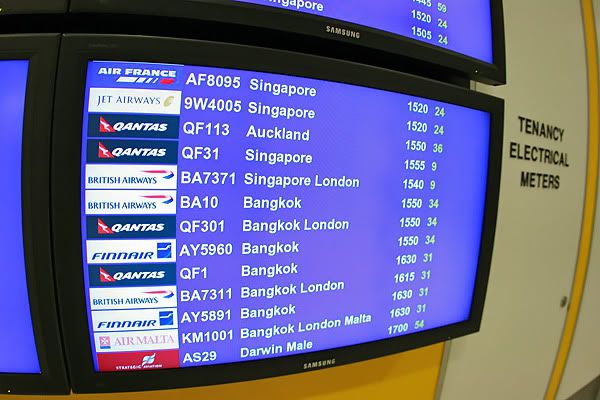 Curbside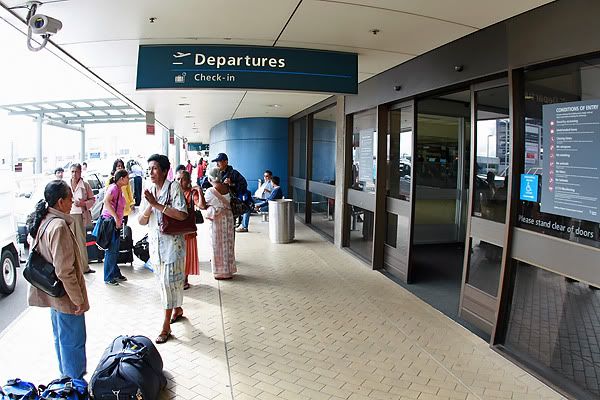 Dull Interior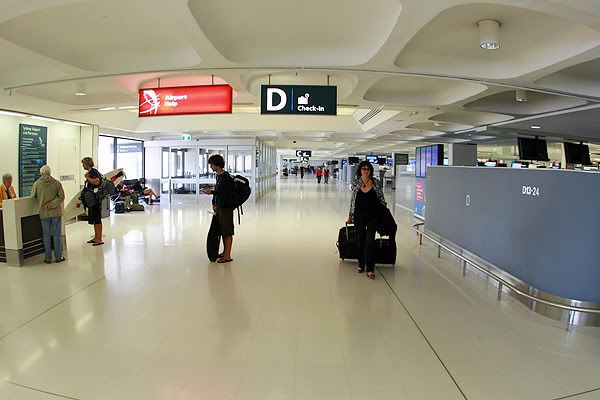 Etihad Check-In Desks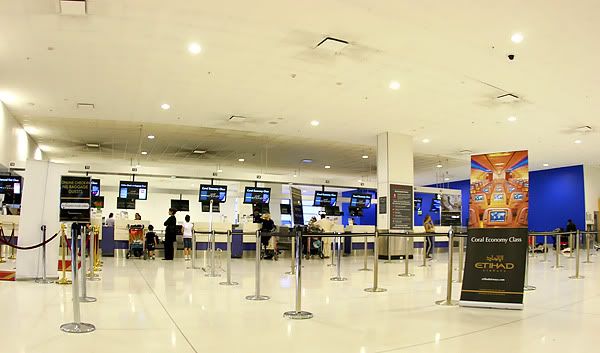 Qantas Ticketing Desk
I found Sydney Airport to be quite dull and very basic. It was definitely no comparison to any world-class airport, but I do know that it is managed by a solid company. It reminded me of a typical American type of airport, with basic architecture and usual facilities that are all available, but in a simple and subtle way. It was boring! I did like the airport's observation deck however, and spent some time there as well.

My Aircraft (VH-OQC) Well Before My Flight
Etihad Airways (A6-EHH) A346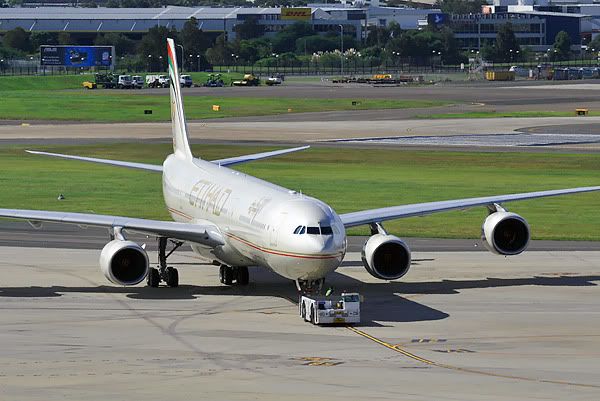 Qantas B744 (VH-OEH)
At around 2:10pm I went through immigration and security and by 2:20pm I was airside. It was interesting to note that immediately after immigration and security you enter into the duty free shopping area. You do not even get a chance to walk to get to it.

Duty Free Shopping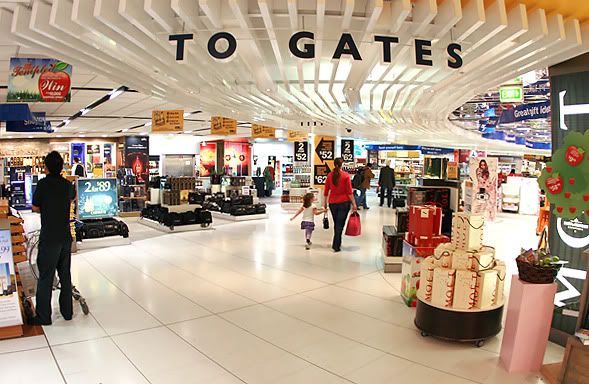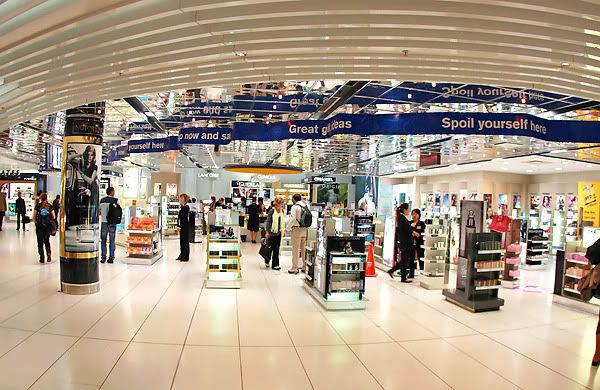 Arriving close to Gate 9, I found it to be barricaded off and no one was allowed to enter it until some time before the flight boards. It seemed like the gates in that area were high-security gates as taking a look inside the area revealed several security check desks lined up.

Barricaded Gate Area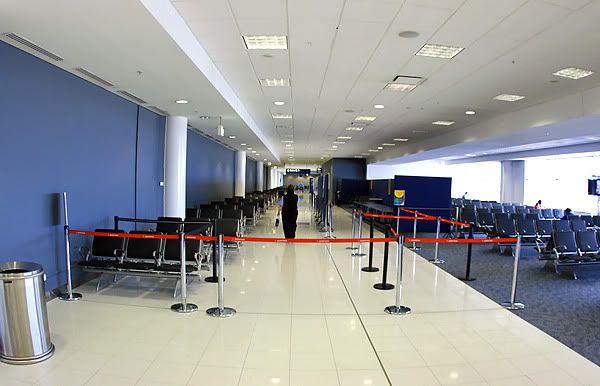 At 2:40pm the aircraft pulled into the gate, and more people began to crowd the seating area close to Gate 9.
VH-OQC Pulling Into The Gate
London & Singapore Bound Passengers
At around 3:25pm, the holding area was opened and security let everyone in. I proceeded to the holding area and took a seat. By 3:45pm the crew appeared one by one with their new uniforms and cat-walked their way into the aircraft.

Gate 9 Holding Area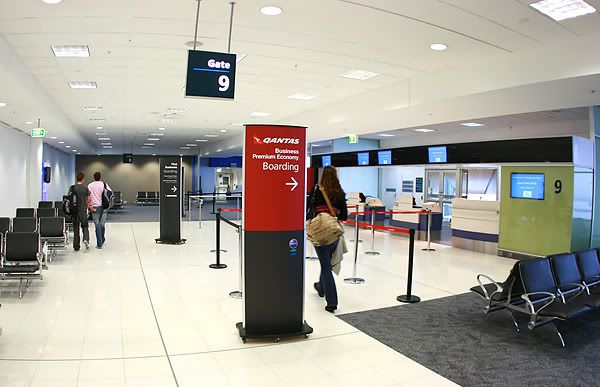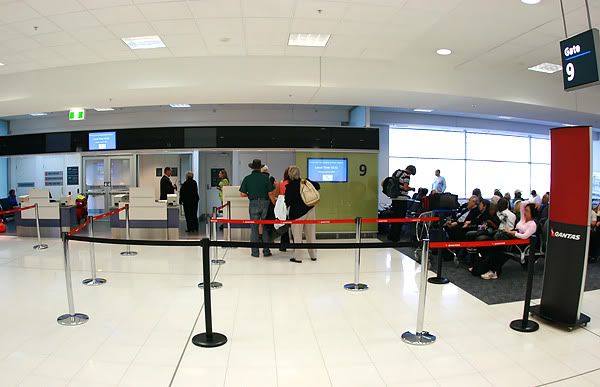 Crew Boarding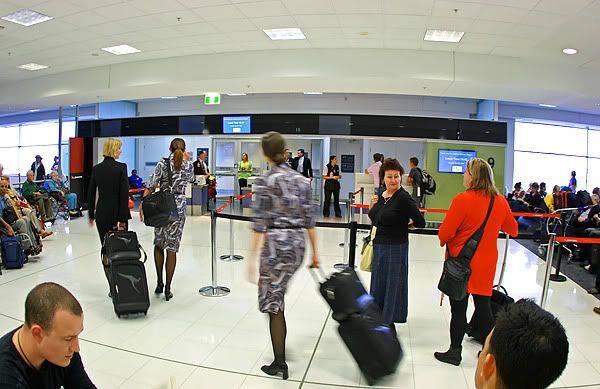 At 3:55pm, a pre-boarding announcement was made calling for all families with children, passengers requiring assistance, and unaccompanied minors to board the aircraft. This was followed by a boarding call for premium passengers at 4:05pm and a general boarding call according to row numbers for Economy Class at 4:15pm.

The boarding system for the Qantas A380 is different to that of Emirates for obvious reasons. There are two entrances that connect to three aerobridges. One entrance is for First and Economy passengers that connect to two aerobridges, one being for First and one for Economy. The second entrance is for Business Class and Premium Economy that connects to the upper-deck aerobridge.

I got up, gathered my belongings and stood in a short queue before arriving next to a Qantas agent who took my boarding pass, tore off the large portion for her and handed me back my stub.

"Enjoy your flight sir"
Boarding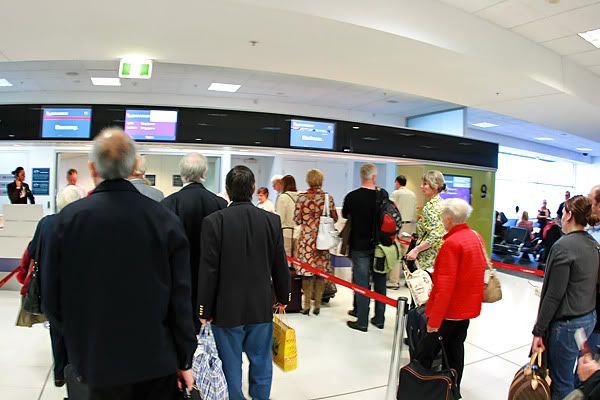 Walking through the Economy Class entrance, I found two Qantas cabin crew standing right in front of the aerobridges, welcoming passengers, and guiding them to their respective aerobridge.

"Good evening sir, please proceed this way to board the aircraft"
"Thank You"
"Nice camera! .. Feel free to take as many pictures of the aircraft before boarding if you like"

The Big Beast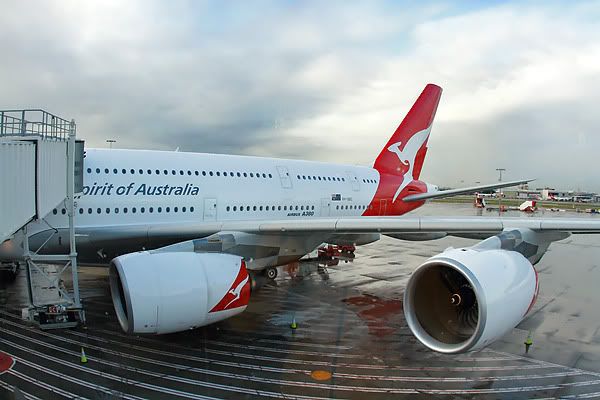 Economy Aerobridge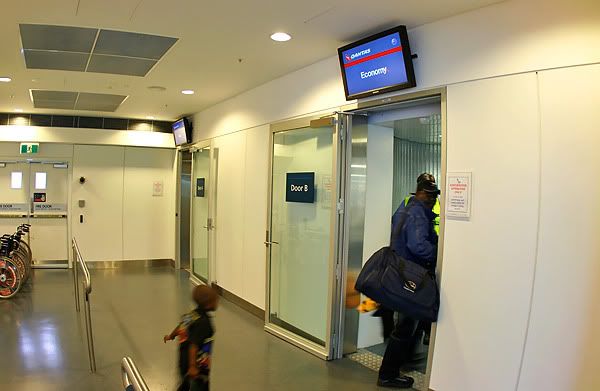 Walking Through The Aerobridge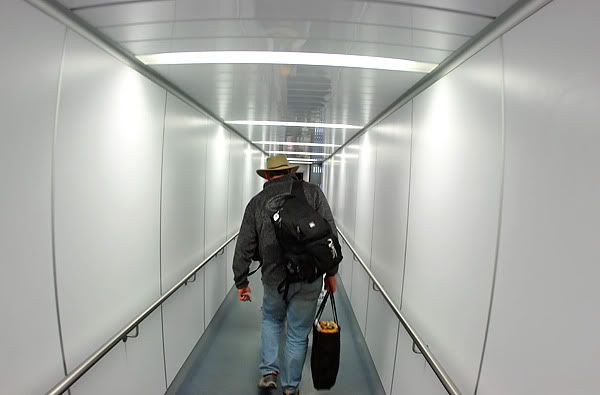 Arriving At Door 2L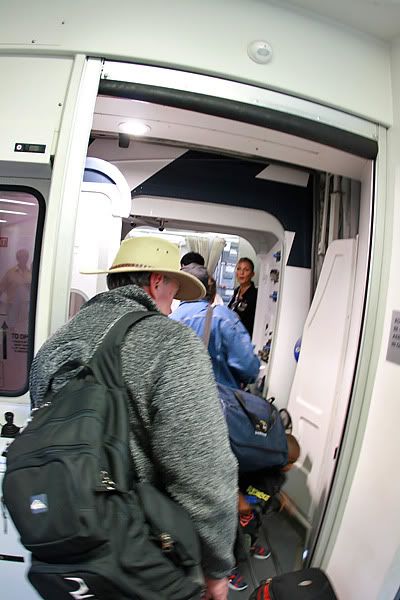 I arrived at Door 2L and was greeted by a very pretty Australian crew who was welcoming passengers on board.
"Welcome on board sir, your seat is 86H, please proceed this way and to the right"
By 4:20pm I was on board.
Flight Information
Airline:
Qantas
Flight No.:
QF31
Routing:
Sydney - Singapore
Scheduled Departure Time:
04:25 PM
Actual Departure Time
04:40 PM (Pushback)
Scheduled Arrival Time:
10:30 PM
Actual Arrival Time:
10:35 PM
Equipment:
Airbus A380-800
Registration:
VH-OQC
My seat was located at the very last row on the lower deck of the aircraft, so I got to see all the different colored seats on my way.

Deep Red Seats
The Infamous Green Seats Which Turned Out To Be My Favorite!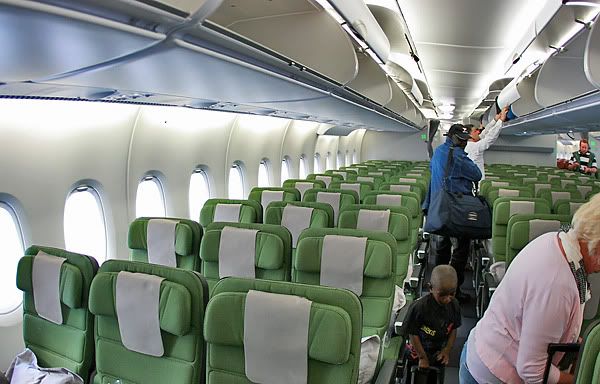 My Seat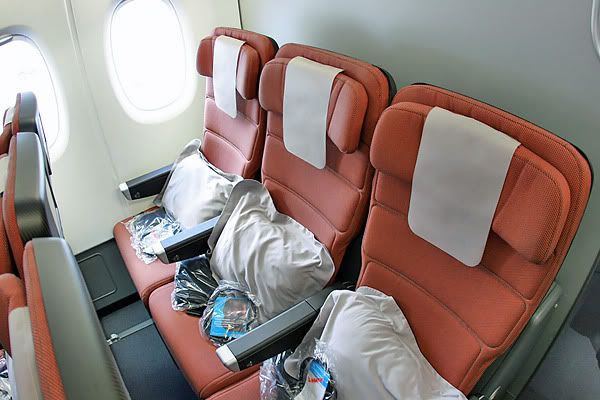 The cabin looked outstanding! The mixture of the colored fronts with the black back of the seats was an amazing contrast. The seat itself was also very comfortable, and the seat pitch was great.

Leg Space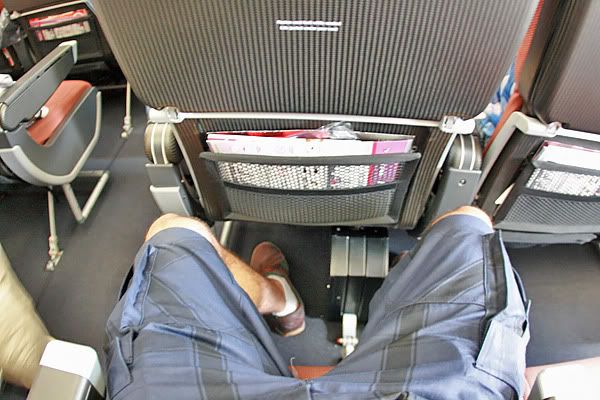 Passengers Boarding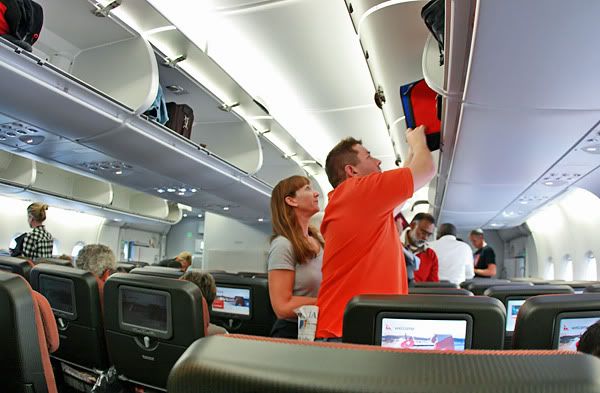 My favorite part of the aircraft however is the self-service bar located in the back of the cabin. I found it to be smart, secure, and very useful.

Self-Service Bar Area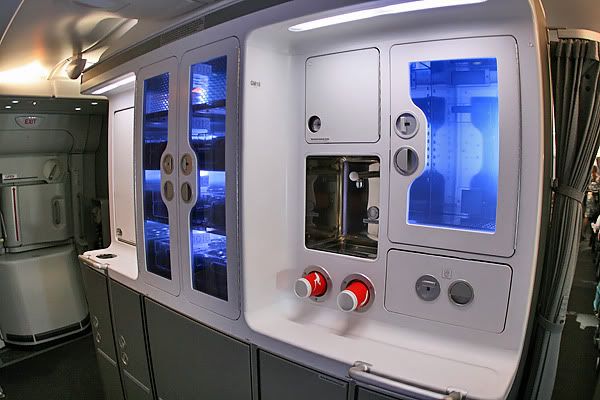 Staircase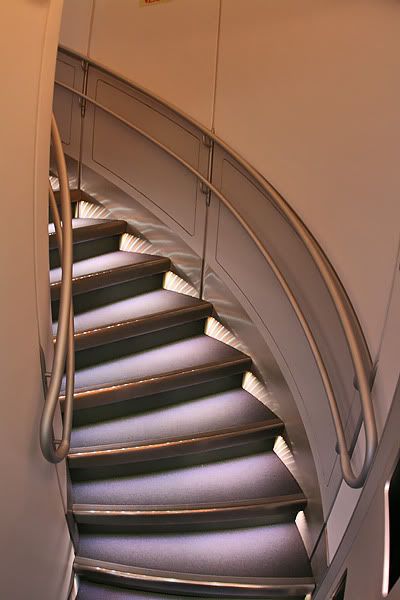 Another nice feature was the availability of the menu on the IFE screen, in addition to a journey planner, which is a simple, yet very useful guide to the in-flight service. This may all seem boring, but little touches like these can go a very long way, especially in Economy Class.

IFE Screen
Electronic Menu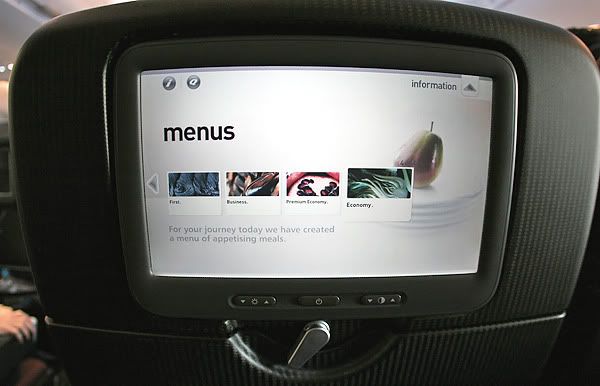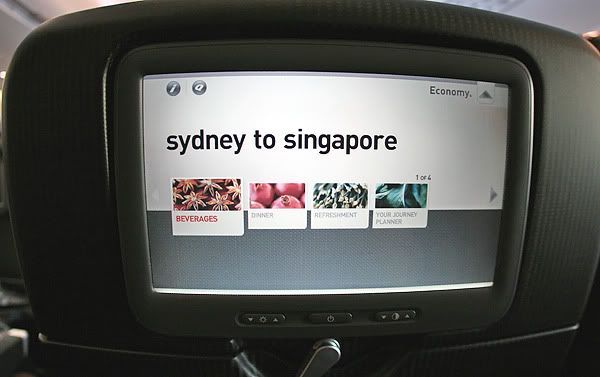 Journey Planner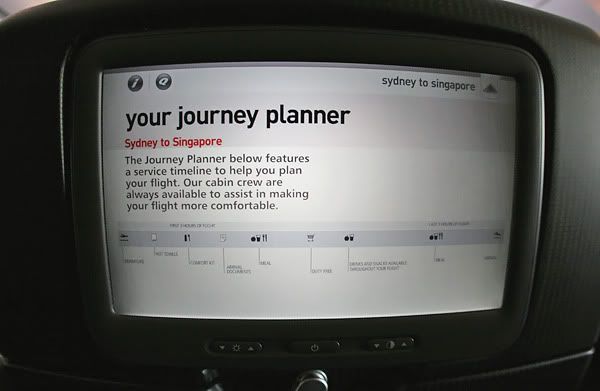 At 4:30pm the captain made an announcement to welcome us on board. He also advised us of our routing to Singapore and that our flight time this evening was 7 hours and 15 minutes. The seatbelt sign was then switched on, and the cabin crew made their final preparations before departure.

Cabin Shots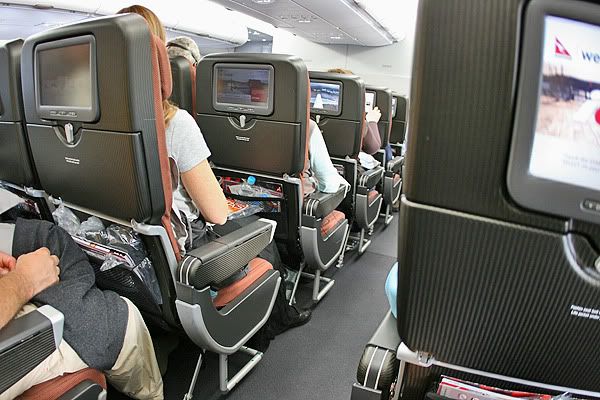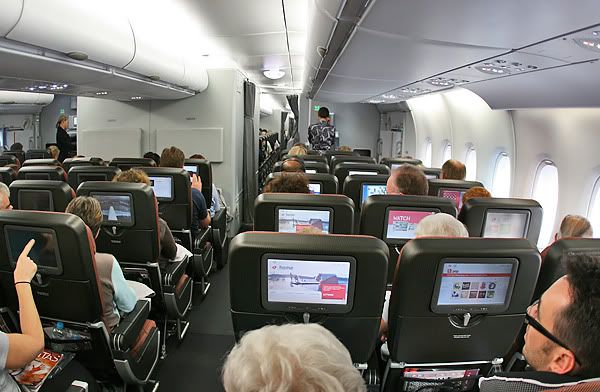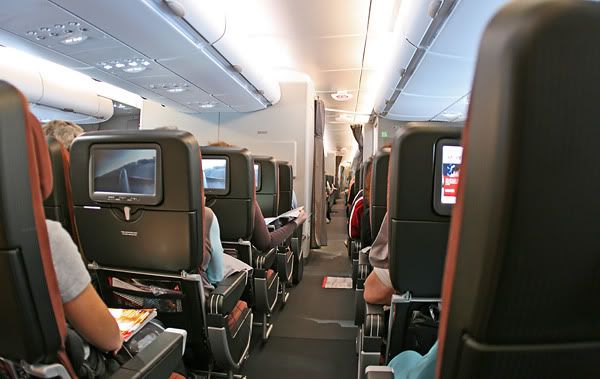 Pushback occurred at 4:40pm, and a departure announcement was made by our German Customer Service Manager. This was followed by the safety demonstration which included both a display on the IFE screens and also a manual one by the crew. This I found to be quite confusing.

After our taxi to the runway, we took off ever so quietly at 4:58pm, and were on our way to SIN City.

As we reached cruising altitude, the seatbelt sign was switched off and the cabin crew were released to prepare for the service.

Inflight Service Commenced With A Hot Towel Service
Followed By Menus & Water Bottles
The cabin crew seemed very cheerful and were very friendly with everyone. They were especially attentive with the elderly passengers and treated all of them were great care. This flight reminded me of the old days during the eighties when I used to fly Lufthansa across the Atlantic.

Shortly afterwards, special meals were distributed, and this was followed by the main trolley service for the rest of the passengers.


"Tonight we are offering the lamb instead of the fish that's listed on the menu, and chicken. What would you like to have sir?"
"I'll have the chicken please"
"Anything to drink with that?"
"Tomato juice please"
"I have Bloody Mary mix, is that alright?"
"That's perfect. Thanks"

Meal Service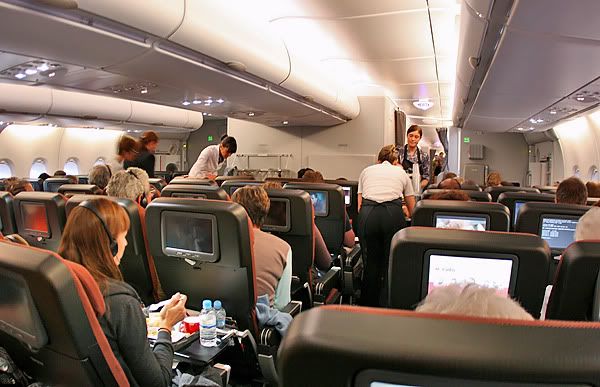 My Chicken Meal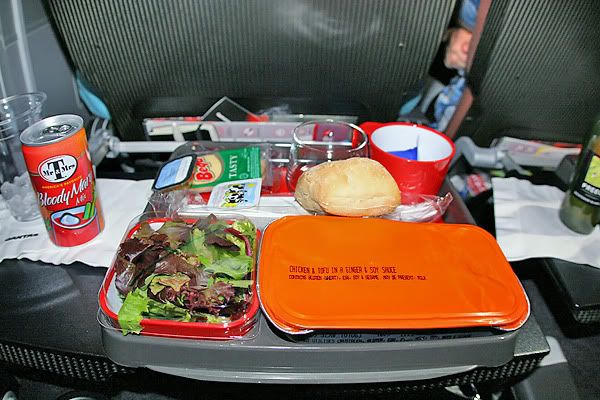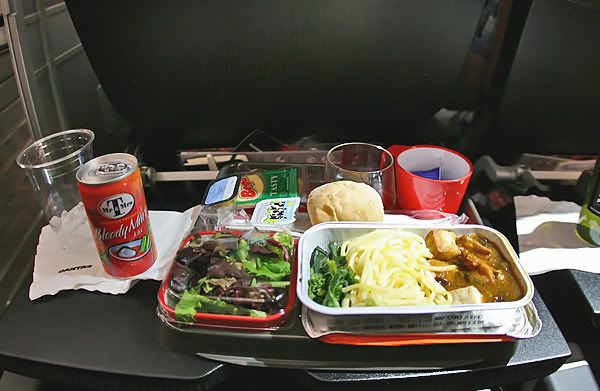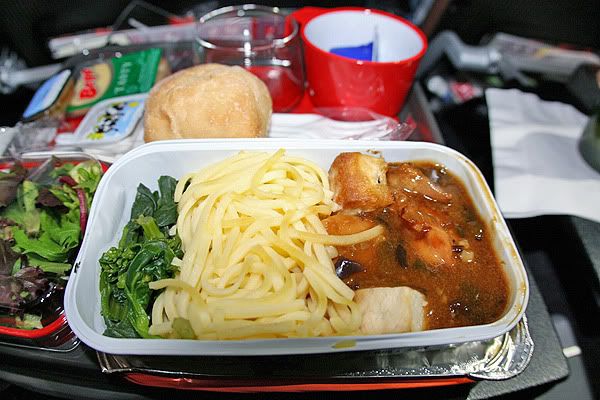 The meal tray looked very nice however, the meal itself in its entirety was quite bland in taste. After I was done eating, my meal tray was collected, and I was beginning to feel sleepy.

About three hours into the flight, I woke up to a hot drink service that consisted of a choice between hot chocolate of peppermint tea, in which I decided to have the tea. I was quite pleased with this service, as it felt a little homey, and quite unique to my previous experiences.

Hot Chocolate & Peppermint Tea Service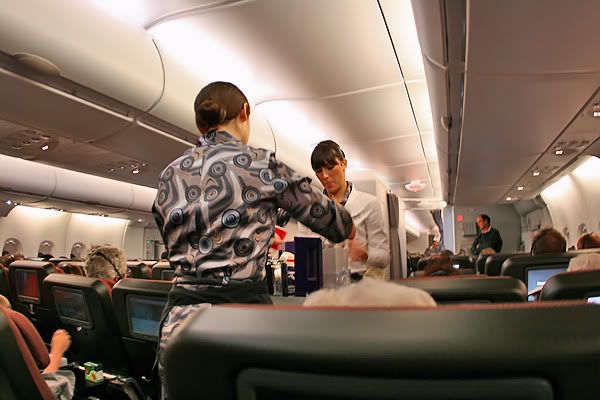 My Peppermint Tea
As the crew were by my side, the aircraft encountered some turbulence that caused some sudden shaking. As a result, some of the hot tea on the trolley spilled on me. The crew was extremely apologetic and immediately went back to the galley to bring me some towels to dry up. Also, 30 minutes later she returned to me to apologize once again and make sure that everything was alright.

I dozed off for a little more, and woke up about 1.5 hours before arrival into Singapore. I decided to pay a visit to the bar area in the back, and also to the lavatory.

Lavatory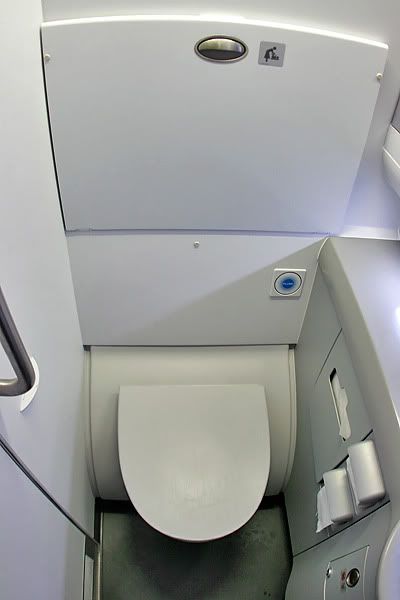 Bar Area Offering Quick Salty & Sweet Snacks, Fruit, And Drinks
Route Map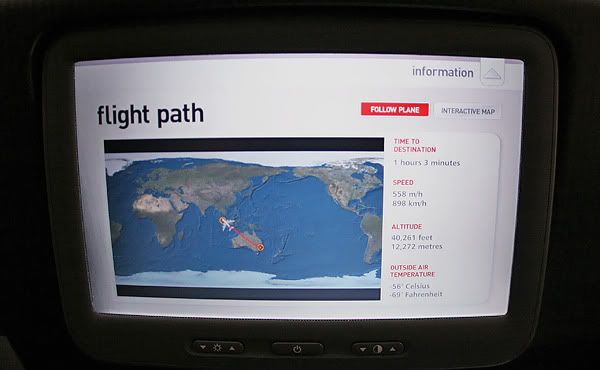 After returning to my seat, the cabin lights were turned on and the cabin crew were preparing for the refreshment service. Special meals were distributed first before the main trolley service for the rest of the passengers.

Special Meals Distributed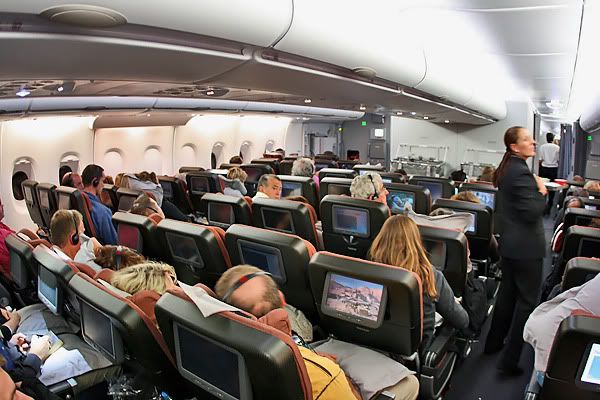 Main Trolley Service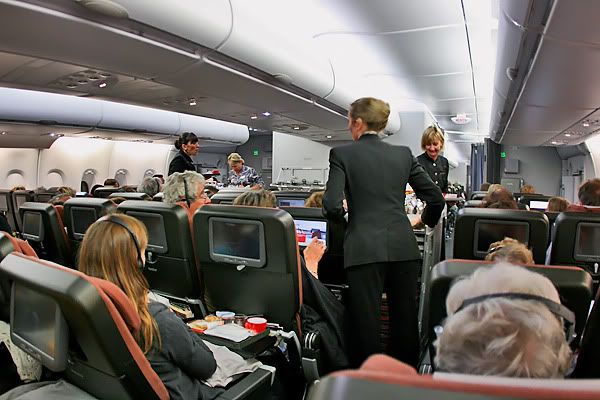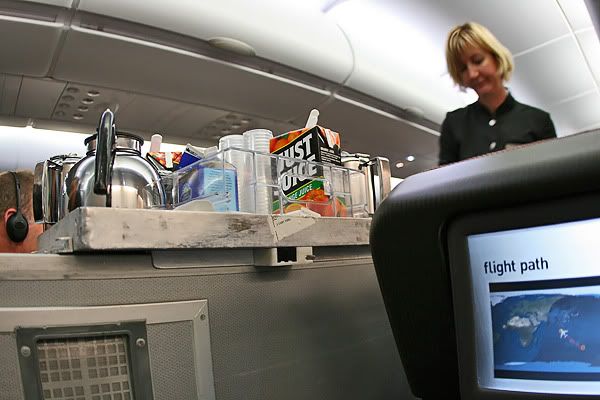 "We are just coming in to Singapore, and we are offering a refreshment service. We have penne pasta with pesto and roasted vegetables"

My Meal Tray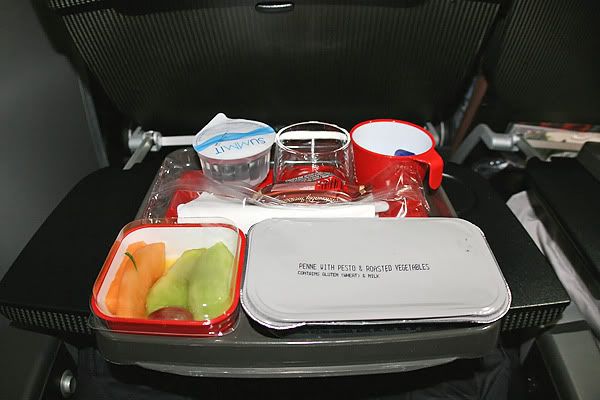 Another Bland Meal
After the meal service, my meal tray was collected. I then decided to give the IFE a quick try and discovered that Little Britain was available. I also noticed that the IFE selection on Qantas was not your conventional mainstream collection, but more of a style with an edge. Setting EK's ICE aside, which we all know is the best, I think Qantas's IFE is my second favorite; it's just different!

The Computer Says No!
At 10:05pm Singapore local time, the captain made an announcement to inform us that we were about to start our initial descent towards Changi International Airport. He also advised us that touchdown was estimated to be at 10:35pm.

The cabin crew collected the headsets, and made their final preparations for landing. Strangely, the seatbelt sign was only switched on at 10:30pm, a mere five minutes before touchdown.

With one of the smoothest approaches that this aircraft is known for, we touched down at Changi at exactly 10:35pm local time, bringing this flight to an end.

After a quick taxi to the gate, the engines powered out and the seatbelt sign was switched off. All passengers got up, gathered their belongings and prepared to disembark.

Docked
Deplaning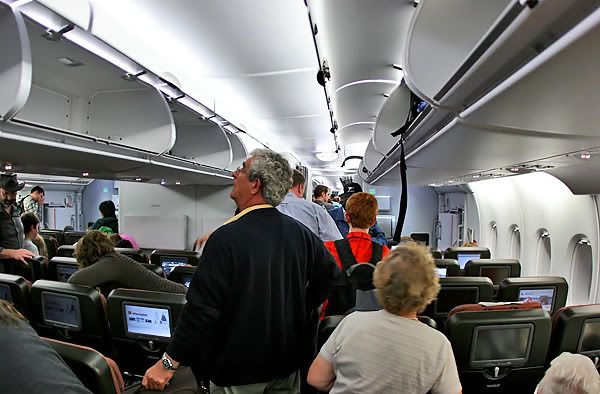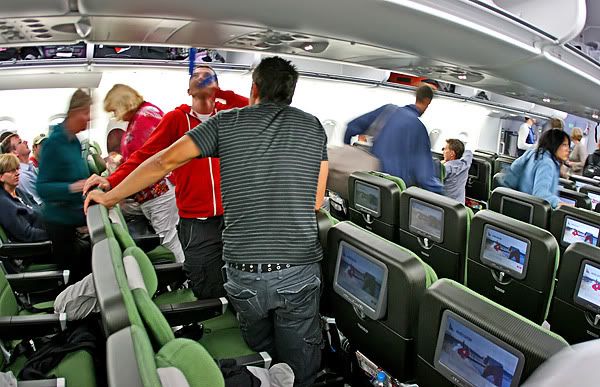 Overall, I was very satisfied with the product that Qantas has offered on the A380. The service was efficient, the crew was friendly, and hardware was great, from the seats, to the cabin, and especially the IFE. I realize that things may be different on their older 744's for example, but I was definitely impressed with the A380 product. My only minor gripe was with the tasteless and generic food that was offered.